Celebrate the High Holidays with WCHJ!
At the Community Unitarian Universalist Congregation, 468 Rosedale Avenue, White Plains
Join us for a humanist Yom Kippur service and break-the-fast meal!
<-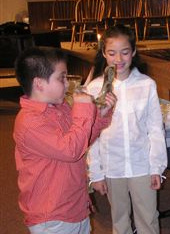 Rosh Hashana: Wednesday, September 20, 6:30pm
The service will be led by our Rabbi, Frank Tamburello.
Music will be provided by Prof. Ruth Levy-Schudroff and our own choir (and the congregation, of course!)
HUMANISTIC ROSH HASHANA
(from the Society of Humanistic Judaism)
Humanistic Jews see Rosh Hashana as a time for renewal, reflection, and new beginnings. Our focus is on the affirmation of human power and human dignity. Rosh Hashana is a time to consider the possibilities for change, improvement, and happiness that we can create for ourselves as human beings. Acknowledging human courage and independence, we can achieve human dignity. Humanistic Jewish communities have adapted many of the ceremonies that are part of the rabbinic celebration of Rosh Hashana. As the first day of the Jewish year, Rosh Hashana marks a turning point, a separation between what was and what will be. It offers a time for Humanistic Jews to pause in their daily lives and reflect on their behavior and renew their commitment to their highest values. The creative liturgies used by Humanistic Jewish communities on Rosh Hashana reflect these themes.
Admission is free, but donations are always welcome.
---
Yom Kippur and break-the-fast: Saturday, Sepmeber 30, 4:30pm (followed by break-the-fast)
The service will be led by Rabbi Frank Tamburello. Music will be provided by Prof. Ruth Levy-Schudroff and our own choir (and the congregation, of course!).
There will also be a performance of Kol Nidre.
Break-the-fast after the service requires RSVP. Cost when paid in advance: adult non-members, $20pp; ages 10-12, $10pp. Please mail checks payable to WCHJ to O. Turovsky, 84 Sprague Rd, Scarsdale, NY 10583. Cost when paid at the door: adult non-members, $25pp; ages 10-12, $15pp. Youngsters under 10 admitted at no charge.
---


Address: Community Unitarian Universalist Congregation,468 Rosedale Avenue, White Plains
---
Please RSVP to Charlotte Klein, 914-218-8535, or email info@wchj.org
---
What is Yom Kippur?
For Humanistic Jews Yom Kippur is a time of continued reflection, a time to examine human behavior. History has taught human beings to rely on themselves for creating change in our society. Adapting the form of our meditations to the content of our message, Humanistic Jews make Yom Kippur a celebration of inner strength and a time of self-forgiveness. Yom Kippur has a special significance for Humanistic Jews. It is the culmination of our examination of our behavior begun on Rosh Hashana. Yom Kippur is a time to reflect on the moral quality of our values and behavior. Introspection and goal setting are traditional behaviors on the High Holidays. There are three key elements to the Humanistic and rabbinic liturgies for Yom Kippur: teshuva, tefilla, and tsedaka.
Teshuva is a Hebrew word, usually translated as "repentence", but which actually means return. For Humanistic Jews teshuva is the action of returning to our values and ideals, renewing our commitment to the highest standards of our ethics. Tefilla is traditionally translated as "prayer", but comes from a word that means self-reflection. For Humanistic Jews tefilla directs us toward self-evaluation. Tsedaka usually means ldquo;charity", but the deeper meaning tells about what kind of human beings we wish to be: tsadikim, or people who embody the highest ideals of the Jewish people.
Teshuva, tefilla, and tsedaka—return to our ideals, self-reflection, and putting our ethics into action are the cornerstone of the Humanistic celebration of Yom Kippur.