Cliff Tisdell presents:
"Triumph of Pan: Picasso in Occupied Paris"
Saturday, October 21, starting at 2:30PM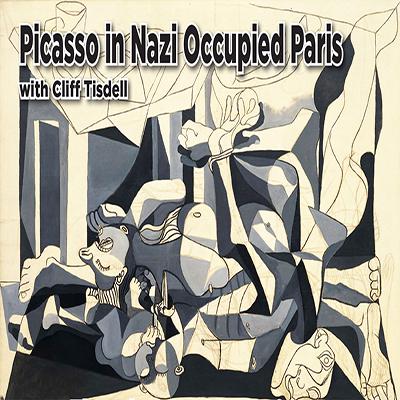 When the Nazi army rolled over Paris unopposed in late spring, 1940, and occupied the city on June 14, one might say the lights went out in the world's greatest cultural beacon. But the truth is more complex as artists, performers, writers and others in the Paris culture industry either co-existed or collaborated outright with the occupiers. In this environment, Picasso survived.
Artist and lecturer Cliff Tisdell will discuss how Picasso, a known anti-fascist and "degenerate artist" not only survived but managed to produce art. He will also discuss how other artists at risk not only continued to work but flourished and how they remained in France at extreme personal risk. The program also will take a look at Picasso's work from this period and how he cleverly made his own statements with art against fascism while under house arrest.
Artists and intellectuals "survived" the war in a fashion, and others enjoyed a "good war." Sartre famously burnished his war credentials after the Occupation; Picasso was largely selfish and unpolitical; painters Derain and Vlaminck traveled as visiting artists to Germany during the war years; CÚline embraced the new destruction along with other French artists who were inspired by the anti-Semitic Nazi occupiers. French culture, seen as fragile under the Occupation, was more of a strange political brew, but there is no doubt that Parisian theaters, music halls, and cinemas continued to entertain, and Paris became the premier vacation destination for the Nazi empire.
Cliff Tisdell is an artist and lecturer whose work has appeared in universities and galleries around the country. Mr. Tisdell has been a guest speaker at exhibitions in colleges and has given his art talks to seniors, students, and other art lovers. His storytelling on the visual arts provides engaging thought combining live talk and extensive visuals. Selected projects: OK Harris Gallery, the Brenda Taylor Gallery, the Chautauqua Institution, The University of Texas, Grounds for Sculpture, the Lichtenstein Center for the Arts, Eric Fischl's America: Here and Now Project, the VanDerPlas Gallery, posters for Carnegie Hall and Post Modern Funnies, a self-published booklet with an endorsement from Jules Feiffer. Mr. Tisdell has done talks on the visual arts at the Lillian Booth Actor's Home and the Brookdale Senior Living Community in Battery Park where he is a regular guest speaker, the Jersey City Museum, the Edward Hopper House, Montclair State University, the New City and Valley Cottage Libraries in Rockland County, NY.
---
The program will be followed by a Havdalah service.
---
Address: Community Unitarian Universalist Congregation, 468 Rosedale Ave, White Plains, NY 10605
There is a $10 charge for non-members.
Coffee and light refreshments will be provided.
For more information, please email info@wchj.org